Top Accolades for Michaela Todd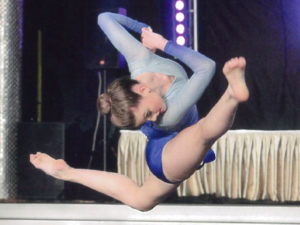 The British Academy congratulates Micheala Todd for her fantastic achievements at the end of last year.
Micaela attended the IDO Dance World Championships in Poland from 8-13 December 2014 with the South African Dance Team. Micaela is 14 and she competed in the 12-15 year age category. Micaela competed in 10 dances made up of 3 solos, 3 duos, 3 small groups and 1 formation.
Of these 10 dances Micaela won 5 golds, 3 silver, 1 bronze and a 6th place. The gold medals were for her Jazz solo, modern duo, jazz small group, ballet small group and modern formation. The competition was attended by 28 countries which send their top dancers that have qualified during the 2014 local competitions. In the solo and duo sections Micaela competed against 55 competitors from around the world.
This year Micaela will compete during July in the USA at the American Dance Awards for which she qualified as the Title Dancer from South Africa. Then in November and December she travels to Germany and Poland to compete again at the IDO Dance World Championships.