Winter School Happiness: final practicals before holidays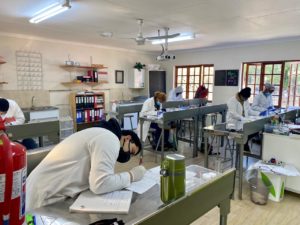 Only two days left before the end of Term 2!  This week saw our learners do a final push to complete all of term 2's work by doing on-campus PRACTICALS.  It was a welcome break for those who switched from Virtual School to face-to-face – with masks, gloves and lab coats – interaction.
For our IG2, AS and A Level students writing Cambridge Exams at the end of this year the practical sessions this week are the first of many workshops geared to prepare them fully.  It does feel a bit strange that, as our students wind down for a well-deserved break, the rest of the country is just opening up – but that is the advantage of our Virtual School, with both online content and virtual  classes running everyday from 8am to 2pm.  How does it compare to "normal school"?  Judging by the comments we received very well indeed and although it is not possible to duplicate every aspect of on-campus teaching (these practicals being case in point) our learners have managed to keep up with the term 2 academic programme.  TBA made a commitment to all our learners that we will deliver the whole academic programme for 2020 – no short-cuts, no truncated syllabus, no lost academic year – in full and make sure our learners are exam ready by the start of the Cambridge Exams on 2nd of October.
But let's not kid ourselves, this has been an exhausting journey for both teachers and learners.  Getting their heads around new technology and systems, the problems caused by an overloaded Internet, Zoom-bombing, power outages, user errors and the distinct challenges of working from home – the whole gamut of the pains and joys of a virtualized school!  How proud we are of them all and, from a school point of view, happy to let them get a Winter Holiday breather.